Samford University officials are actively monitoring the outbreak of the respiratory illness COVID-19 caused by a novel (new) coronavirus first identified in Wuhan, China in December 2019. The university will continue to monitor the outbreak and to review information from the Centers for Disease Control and Prevention, the World Health Organization and the Alabama Department of Public Health to address public health concerns on campus and with our international programs. Please click here for more information as it relates to Samford University's travel policies and precautions.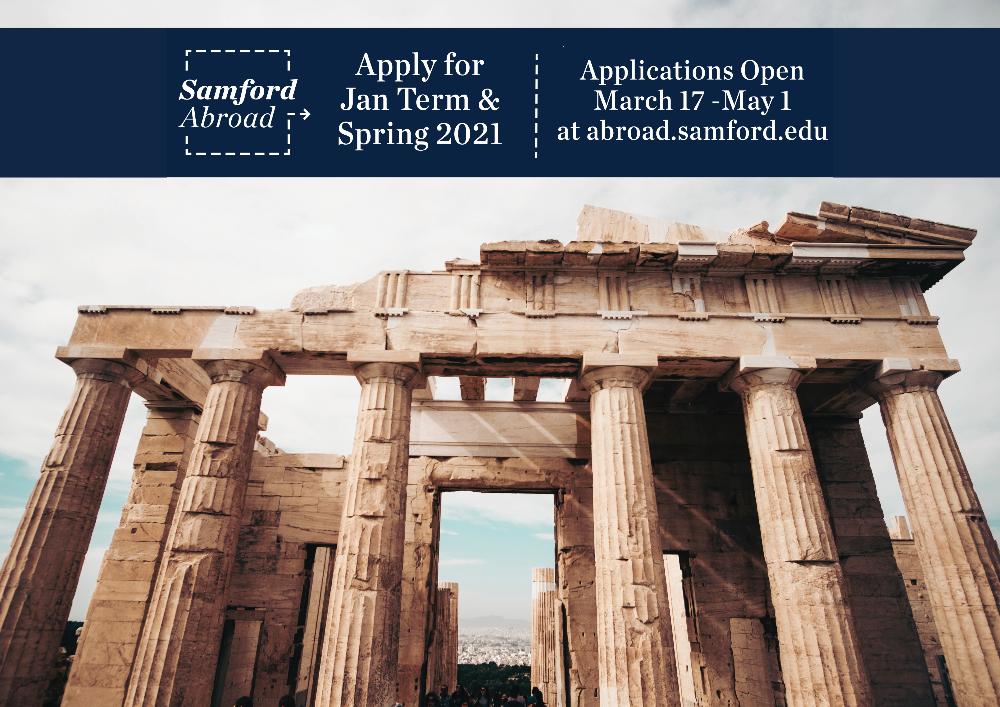 Applications are open now for Jan Term & Spring 2021!
Browse programs by clicking "Programs" on the left-hand menu. To learn more about the application process and next steps, refer to "How to Apply," "Process & Timeline" or "Frequently Asked Questions" also found on the left-hand menu.

Click "Scholarships" for a list of possible outside scholarship considerations.
Click "Appointments" to schedule an online meeting with a Peer Advisor or Samford Abroad Advisor.


Click here for step-by-step instructions for how to pay the online deposit.


Follow us on Instagram (@samfordabroad). In the coming weeks, each program will be highlighted along with important considerations, next steps, and office support.

Through our Instagram page, we'll answer your most common questions:
I

s the deposit refundable?

How are applications evaluated?

What happens after I am accepted into a program?

What support does the Global Engagement Office provide?

Why should I study abroad?

Who can I talk to if I have more questions?
Following our Instagram page is the best way to keep informed. Ask your own questions, listen to videos from the faculty leaders, and even test your knowledge of the location you hope to study in.


We also offer opportunities to study for a semester, Jan term, or summer through several partner programs. Please contact us at geo@samford.edu to learn more about affiliate options.
---