Emergencies Abroad
Emergencies Abroad
Emergencies vary in magnitude and type but are relatively rare. In case of emergency, we enroll all Samford students in Cultural Insurance Services International and AXA Assistance so that faculty and students may get the attention needed abroad. Students and faculty directors must also have a working smart phone with ability to make international calls and the AlertTraveler app downloaded and activated. All faculty and students must enroll in the State Department's
Smart Traveler Enrollment Program
.
In the event there are U.S. State Department public announcements, worldwide caution, travel alerts or warnings, the GEO will notify faculty directors abroad. They will then relay any applicable information to group participants and, at times, their identified emergency contacts. Faculty are required to be in possession of a working smartphone with international data activated and must download and activate GPS on the AlertTraveler App while abroad with students.
In the event of a local, regional or global crisis, faculty directors will maintain contact with the local U.S. Embassy or Consulate and pay attention to AlertTraveler alerts for updated security information. If a local or regional crisis should occur, they must review precautions with participants so they can better secure their safety. Students should reach out directly to their listed emergency contacts as soon as possible to confirm their safety. The faculty directors will contact the GEO as soon as possible to confirm the well-being status of the group. The GEO will liaison with appropriate University offices to provide updates including President, Provost, Student Affairs, General Counsel and Communications.
Faculty directors will also brief students on safe behavior, depending on the local situation and culture. This may include advising students to maintain a low profile, avoid crowds and protest groups, restaurants, and locations where Americans are known to frequent. Students should keep up with local news through newspapers, radio, and television and, in the event of disturbances or protests, do not get involved. Students should use common sense and caution when divulging information to strangers and via social media about themselves, the program, and their fellow students. In cases of serious health problems, injury, or other significant health and safety circumstances, faculty directors must follow the emergency procedures set forth by the GEO.
It is important to know what steps to take in the event of an emergency. Be sure to review the information on the
Preparing for Emergencies Abroad
24/7 Emergency Contacts
The equivalent of 911 in your host country.This number can be called directly from your phone but can also be accessed and called using AlertTraveler.
Your on-site faculty director ASAP. If they are unreachable, proceed to call Samford Public Safety.
Samford Public Safety – 001-726-2020 The dispatcher will collect important information from you and relay it to a member of the GEO staff, who will call you back.

Tell the dispatcher who and where you are.
Tell them you are on a program with the Samford Global Engagement Office.

AXA Medical/Security Assistance: 001 (443) 470-3043 – Outside US

(855) 951-2326 – Inside US Toll Free
When contacting AXA, please reference Samford's insurance policy number that can be found on the back of your insurance card.
They may be able to arrange payment on your behalf to the treating hospital. If you don't call AXA for assistance, you will likely have to pay for medical expenses out of pocket at the time of service.

Your emergency contact.
During regular business hours, you can reach the GEO by calling 001-205-726-2741. After hours, submit a help request via AlertTraveler.
The nearest U.S. embassy or consulate or the U.S. Department of State, Office of Overseas Citizens Services: (888) 407-4747 (from the U.S. or Canada) or (202) 501-4444 (from overseas). Consular officers are available for emergency assistance 24 hours/day, 7 days/week.
Please Note: Calls from abroad require that the U.S. country code be entered before the area code. In most countries, this code is 001. For example, to call AXA Assistance, dial 001-443-470-3043. Instructions on how to make calls while abroad can be found here:
https://www.howtocallabroad.com/
Students should familiarize themselves with the process of making calls abroad prior to departure.
Contacts to Keep on Hand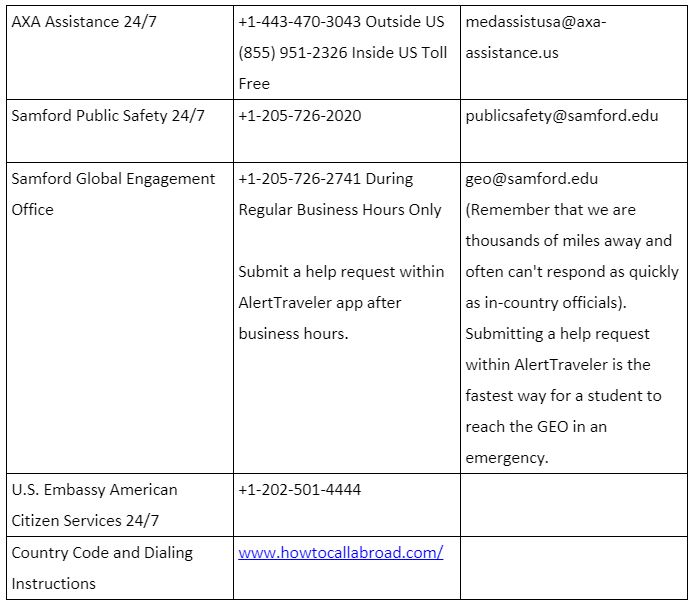 Other Email Contacts
Lauren Doss, Director of the Global Engagement Office: ledoss@samford.edu
Jill Fisse, Assistant Director of the Global Engagement Office: jfisse@samford.edu
Alexis Whiting, Samford Abroad Advisor: awhiting@samford.edu
Tom Crosby, Daniel House Resident Director: tcrosby@samford.edu
Ashley Johnson, Compliance Coordinator: ashley.johnson@samford.edu
Be mindful that responses to e-mail may be delayed. In an emergency, call one of the 24/7 contact numbers or submit a help request via AlertTraveler.